Ergonomics: visual and physical
Ergonomics: visual and physical
73. Ergonomics: visual and physical
Intent:
To reduce physical strain and maximize ergonomic comfort and safety.
Overuse of the same muscles and ligaments while trying to adjust to static furniture or equipment over time can cause discomfort and strain the body, especially in occupational environments that require repetitive tasks. Under such conditions, the effects of even slight visual or physical discomfort are compounded, leading to decreased occupant comfort and focus.
Part 1: Visual Ergonomics
The following requirement is met:
a.83
All computer screens are adjustable in terms of height and distance from the user.
Part 2: Desk Height Flexibility
At least 30% of workstations have the ability to alternate between sitting and standing positions through a combination of the following:
a.
Adjustable height sit-stand desks.
b.
Desk-top height adjustment stands.
c.
Pairs of fixed-height desks of standing and seated heights (which need not be located adjacent to each other).
Employee furnishings are adjustable in the following ways:
a.178
Workstation chair height adjustability is compliant with the HFES 100 standard or BIFMA G1 guidelines.
b.178
Workstation seat depth adjustability is compliant with the HFES 100 standard.
Workstations in which employees are required to stand for extended periods of time include the following amenities:
a.128
At least 10 cm [4 inches] of recessed toe space at the base of the workstation to allow decreased reaching requirements for employees.
b.128
A foot rest to allow employees to alternate resting feet.
c.128
Anti-fatigue mats or cushions.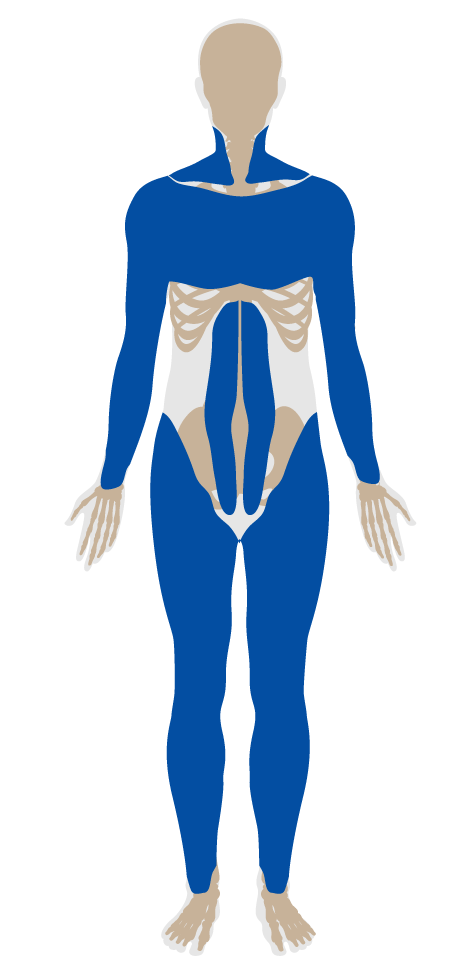 Applicability Matrix
| | Core & Shell | New & Existing Buildings | New & Existing Interiors |
| --- | --- | --- | --- |
| Part 1: Visual Ergonomics | - | P | P |
| Part 2: Desk Height Flexibility | - | P | P |
| Part 3: Seat Flexibility | - | P | P |
| | Commercial Kitchen | Education | Multifamily Residential | Restaurant | Retail |
| --- | --- | --- | --- | --- | --- |
| Part 1: Visual Ergonomics | - | P | - | - | - |
| Part 3: Seat Flexibility | - | P | - | - | - |
| Part 4: Standing Support | P | P | - | P | P |
Verification Methods Matrix
Letters of Assurance
Annotated Documents
On-Site Checks

Part 1:

Visual Ergonomics

Owner

Spot Check

Part 2:

Desk Height Flexibility

Owner

Spot Check

Part 3:

Seat Flexibility

Owner

Spot Check

Part 4:

Standing Support

Owner

Spot Check
Business + Institution Furniture Manufacturers Association. BIFMA Ergonomics Guideline Ultimate Test for Fit. Grand Rapids: Business + Institution Furniture Manufacturers Association; 2013: 3.

| | |
| --- | --- |
| 73.1.a | BIFMA's Ergonomics Guideline for Furniture Used in Office Work Spaces Designed for Computer Use recommends monitors be positioned at heights that permit seated or standing users to view the entire monitor display quickly and with little effort. |
Occupational Safety and Health Administration (OSHA). Guidelines for Retail Grocery Stores: Ergonomics for the Prevention of Musculoskeletal Disorders. Washington, D.C.: U.S. Department of Labor; 2004: 15-17.

| | |
| --- | --- |
| 73.4.c | The OSHA Guidelines state that "Good quality anti-fatigue mats reduce back and leg fatigue." |
| 73.4.b | The OSHA Guidelines state that "Placing a foot on a footrest or other support will promote comfort." |
| 73.4.a | The OSHA Retail Guidelines say to "Provide adequate toe space (at least 4 inches) at the bottom of the workstation. Toe space allows cashiers to move closer to the checkstand, decreasing reaching requirements." |
| | |
| --- | --- |
| 73.3.a | HFES standards accommodate at least 90% of the North American workforce. The BIFMA G1 provides recommendations for sizing furniture to accommodate the 5th percentile female to the 95th percentile male of the North American population. |
| 73.3.b | HFES standards accommodate at least 90% of the North American workforce. The BIFMA G1 provides recommendations for sizing furniture to accommodate the 5th percentile female to the 95th percentile male of the North American population. |