Automated shading and dimming controls
Automated shading and dimming controls
Design features such as adjustable window shades and lights with dimmers must be actively managed to be effective. Automated controls can help to ensure that these systems continually operate as intended and meet intended benefits such as glare avoidance and energy reduction. Furthermore, setting these features to automatically adjust can greatly contribute to comfort without disrupting occupants from other tasks.
This feature requires automated control systems to ensure that window shades are effectively utilized to block glare from sunlight and that lighting controls are employed to limit artificial light output when sunlight meets designated light levels, representing a strategy for both energy savings and an improved occupant experience.
Part 1: Automated Sunlight Control
All windows larger than 0.55 m² [6 ft²] have the following:
a.80
Shading devices that automatically engage when light sensors indicate that sunlight could contribute to glare at workstations.
Part 2: Responsive Light Control
The following requirements are met in all major workspace areas:
a.80
All lighting except decorative fixtures is programmed using occupancy sensors to automatically dim to 20% or less (or switch off) when the zone is unoccupied.
b.80
All lighting except decorative fixtures has the capacity and is programmed to dim continuously in response to daylight.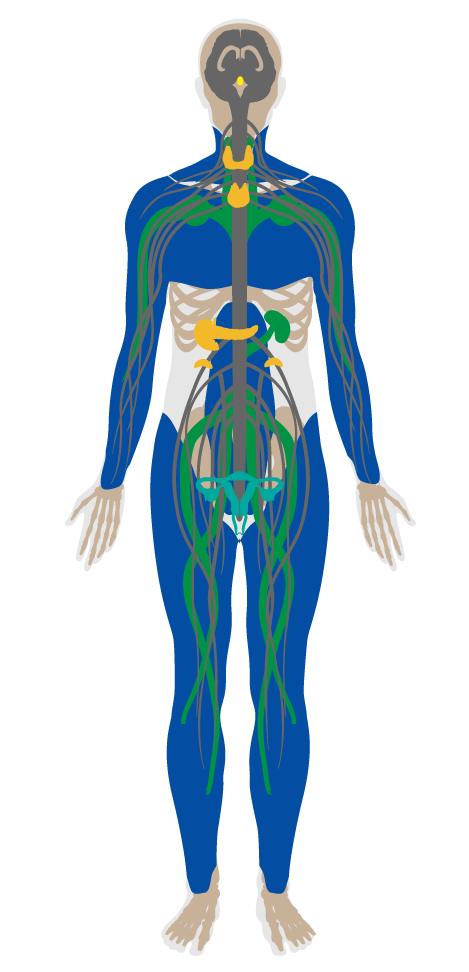 Nervous
Skeletal
Reproductive
Endocrine
Muscular
Immune
Applicability Matrix
| | Core & Shell | New & Existing Buildings | New & Existing Interiors |
| --- | --- | --- | --- |
| Part 1: Automated Sunlight Control | - | O | O |
| Part 2: Responsive Light Control | - | O | O |
| | Commercial Kitchen | Education | Multifamily Residential | Restaurant | Retail |
| --- | --- | --- | --- | --- | --- |
| Part 1: Automated Sunlight Control | O | O | O | O | O |
| Part 2: Responsive Light Control | O | O | O | O | O |
Verification Methods Matrix
Letters of Assurance
Annotated Documents
On-Site Checks

Part 1:

Automated Sunlight Control

Architect

Part 2:

Responsive Light Control

Architect
U.S. General Services Administration (GSA). Facilities Standards for the Public Buildings Service. March 2014, Washington, D.C., pp. 135-136.

| | |
| --- | --- |
| 60.1.a | The GSA's Facilities Standard for the Public Buildings Service notes that automatic shade controls help occupants manage luminance levels. |
| 60.2.b | The GSA's Facilities Standard for the Public Buildings Service notes that automatic controls for daylight dimming save energy. |
| 60.2.a | The GSA's Facilities Standard for the Public Buildings Service notes that automatic controls for occupancy save energy. |