Air quality standards
Air quality standards
Pollutants generated indoors can lead to a variety of symptoms and health conditions. Volatile organic compounds (VOCs), combustion byproducts and airborne particulate matter are known to trigger nausea, headaches, asthma, respiratory irritation and allergies. While ambient outdoor air is often better quality, natural ventilation methods, operable doors and windows, and general building envelope infiltration can diminish indoor air quality if external air quality parameters are poor.
This feature requires an assessor to complete a performance test after occupancy as an independent means of verifying that the building, whether naturally or mechanically ventilated, is meeting critical air quality requirements.
Part 1: Standards for Volatile Substances
The following conditions are met:
a.1
Formaldehyde levels less than 27 ppb.
b.1
Total volatile organic compounds less than 500 μg/m³.
Part 2: Standards for Particulate Matter and Inorganic Gases
The following conditions are met:
a.2
Carbon monoxide less than 9 ppm.
b.2
PM₂.₅ less than 15 μg/m³.
c.3
PM₁₀ less than 50 μg/m³.
d.3
Ozone less than 51 ppb.
The following conditions are met in projects with regularly occupied spaces at or below grade:
a.4
Radon less than 4 pCi/L in the lowest occupied level of the project.
Part 4: Operational Kitchen Air Quality
The following air quality concentrations are met in the commercial kitchen space:
a.2
Carbon monoxide levels less than 35 ppm.
b.2
PM₂.₅ less than 35 μg/m³.
c.2
Nitrogen dioxide less than 100 ppb.
d.129
Formaldehyde less than 81 ppb.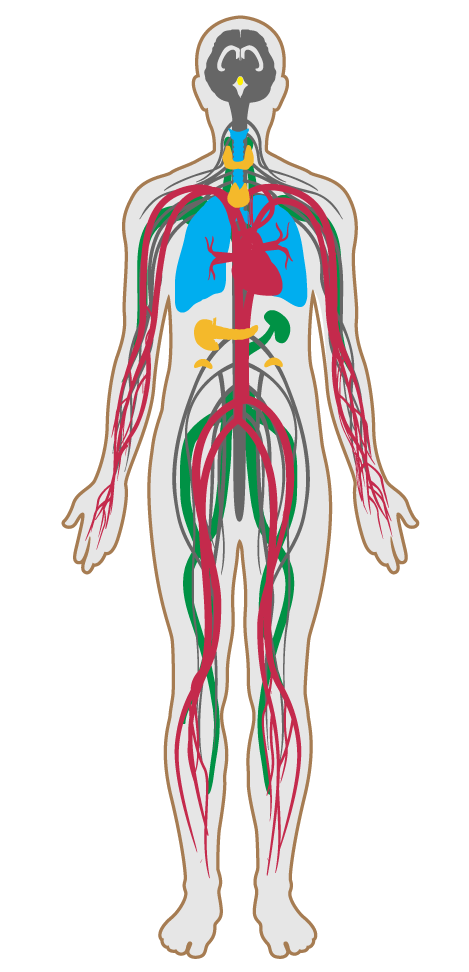 Immune
Cardiovascular
Endocrine
Respiratory
Nervous
Applicability Matrix
| | Core & Shell | New & Existing Buildings | New & Existing Interiors |
| --- | --- | --- | --- |
| Part 1: Standards for Volatile Substances | P | P | P |
| Part 2: Standards for Particulate Matter and Inorganic Gases | P | P | P |
| Part 3: Radon | P | P | P |
| Part 4: Operational Kitchen Air Quality | - | - | - |
| | Commercial Kitchen | Education | Multifamily Residential | Restaurant | Retail |
| --- | --- | --- | --- | --- | --- |
| Part 1: Standards for Volatile Substances | - | P | P | P | P |
| Part 2: Standards for Particulate Matter and Inorganic Gases | - | P | P | P | P |
| Part 3: Radon | P | P | P | P | P |
| Part 4: Operational Kitchen Air Quality | P | - | - | - | - |
Verification Methods Matrix
Letters of Assurance
Annotated Documents
On-Site Checks

Part 1:

Standards for Volatile Substances

Performance Test

Part 2:

Standards for Particulate Matter and Inorganic Gases

Performance Test

Part 3:

Radon

Performance Test

Part 4:

Operational Kitchen Air Quality

Performance Test
U.S. Green Building Council. LEED v4: Reference Guide for Building Design and Construction. Washington D.C.: U.S. Green Building Council; 2013: 37, 43-44, 541-552, 567, 605, 623, 645-53, 658-61, 682-3, 685-6, 723-4.

| | |
| --- | --- |
| 01.1.a | USGBC's LEED v4: Reference Guide for Building Design and Construction EQ Credit: Indoor Air Quality Assessment requires demonstration of formaldehyde levels less than 27 ppb. |
| 01.1.b | USGBC's LEED v4: Reference Guide for Building Design and Construction EQ Credit: Indoor Air Quality Assessment requires demonstration of total VOC levels less than 500 μg/m³. |
U.S. Environmental Protection Agency. National Ambient Air Quality Standards. 40 CFR Part 50. http://www.epa.gov/air/criteria.html. Revised October 2011. Updated December 14, 2012. Accessed September 16, 2014.

| | |
| --- | --- |
| 01.2.a | The EPA's 2012 NAAQS require ambient air in cities to keep 8-hr average levels of carbon monoxide below 9 ppm and 1-hr averages below 35 ppm, not to be exceeded more than once per year. |
| 01.2.b | The EPA's 2012 NAAQS requre PM₂.₅ to be less than 12 μg/m³ for a primary annual mean, secondary annual mean of 15 μg/m³ and a 24-hour concentration of 35 μg/m³, averaged over three years . |
| 01.4.a | The EPA's NAAQS set a 1-hour concentration level for carbon monoxide at 35 ppm, which is not to be exceeded more than once a year. |
| 01.4.b | The EPA's NAAQS sets standards for PM₂.₅ at 12 μg/m³ for a primary annual mean, a secondary annual mean set at 15 μg/m³ and a 24-hour concentration set at 35 μg/m³, all averaged over three years. |
| 01.4.c | The EPA's NAAQS for nitrogen dioxide set 100 ppb as the limit for the 98th percentile (averaged over three years) of hourly means. |
World Health Organization. WHO Air Quality Guidelines for Particulate Matter, Ozone, Nitrogen Dioxide and Sulfur Dioxide. Geneva: World Health Organization; 2005: 9, 14.

| | |
| --- | --- |
| 01.2.c | The WHO's Air Quality Guidelines for Particulate Matter, Ozone, Nitrogen Dioxide, and Sulfur set 50 μg/m³ as a 24-hour mean concentration limit for PM₁₀. |
| 01.2.d | The WHO's Air Quality Guidelines for Particulate Matter, Ozone, Nitrogen Dioxide, and Sulfur Dioxide recommend ozone limits at 100 μg/m³ 8-hour mean. |
| | |
| --- | --- |
| 01.3.a | The EPA's A Citizen's Guide to Radon recommends radon levels to be less than 4 pCi/L. |
World Health Organization. Guidelines for Indoor Air Quality – Selected Pollutants. Geneva: World Health Organization; 2010: 141-142.

| | |
| --- | --- |
| 01.4.d | The WHO's indoor air quality guidelines set a short-term (30 minute) formaldehyde guideline of 0.1 mg/m³ [81 ppb] to prevent sensory irritation and also long-term health effects including cancer. |