Antimicrobial activity for surfaces
Antimicrobial activity for surfaces
Antimicrobial activity on surfaces can accelerate the natural rate of microbial cell death. Non-leaching antimicrobial surfaces are capable of killing microorganisms upon contact without leaching significant amounts of antimicrobial materials into the surrounding environment. Alternatively, cleaning processes and equipment that use short wavelength ultraviolet light (UV-C) effectively can reduce the bacterial load on surfaces, so long as they are used with sufficient frequency to prevent the bioload from being re-established.
This feature employs the use of materials or procedures that clean surfaces by reacting to or disrupting microbes. This approach suppresses microbe build-up on surfaces while minimizing the use of cleaning chemicals.
Part 1: High-Touch Surfaces
All countertops and fixtures in bathrooms and kitchens, and all handles, doorknobs, lightswitches and elevator buttons are one of the following:
a.21
Coated with or comprised of a material that is abrasion-resistant, non-leaching and meets EPA testing requirements for antimicrobial activity.
b.
Cleaned with a UV cleaning device that has an output of at least 4 mW/cm³, used as recommended by the manufacturer.
Part 2: Locker Room Coating
All lockers, benches, and floors in the locker rooms, if present, are coated with or comprised of a material which meets the following:
a.
Abrasion-resistant and non-leaching.
b.132
EPA testing requirements for antimicrobial activity.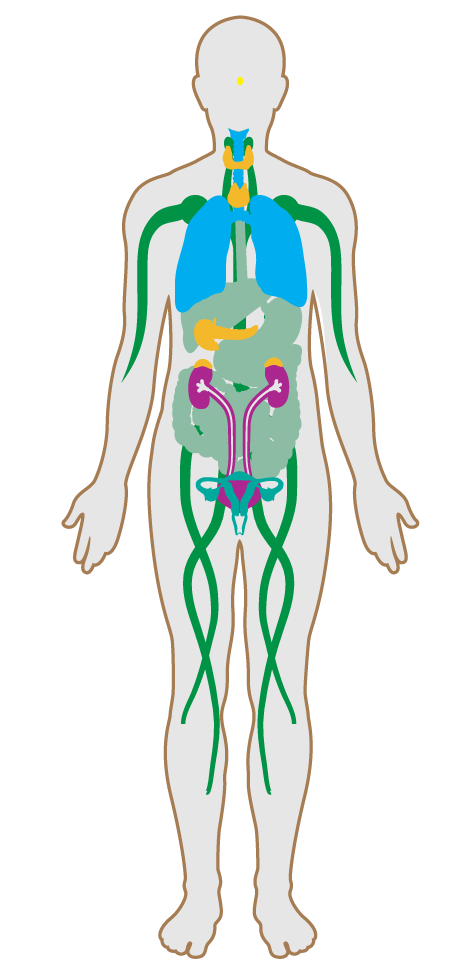 Immune
Digestive
Integumentary
Endocrine
Respiratory
Urinary
Reproductive
Applicability Matrix
| | Core & Shell | New & Existing Buildings | New & Existing Interiors |
| --- | --- | --- | --- |
| Part 1: High-Touch Surfaces | - | O | O |
| Part 2: Locker Room Coating | - | - | - |
| Part 3: Fabric Coating | - | - | - |
| | Commercial Kitchen | Education | Multifamily Residential | Restaurant | Retail |
| --- | --- | --- | --- | --- | --- |
| Part 1: High-Touch Surfaces | O | O | O | O | O |
| Part 2: Locker Room Coating | - | O | - | - | - |
| Part 3: Fabric Coating | - | - | - | - | - |
Verification Methods Matrix
Letters of Assurance
Annotated Documents
On-Site Checks

Part 1:

High-Touch Surfaces

Architect

Architectural Drawing or Operations Schedule

Part 2:

Locker Room Coating

Contractor

Architectural Drawing or Operations Schedule
| | |
| --- | --- |
| 27.1.a | The EPA's process is created to "determine the residual sanitizing efficacy of antimicrobial products after application to inanimate, nonporous, non-food contact hard surfaces." |